Activismo y género en un contexto migratorio. Experiencias generizadas y significados al quehacer político
Palabras clave:
mujeres inmigrantes, movimientos sociales, activismo migrante, distinción público-privado, trabajo de cuidados
Resumen
El movimiento migrante en contra de las deportaciones en Estados Unidos ha sido ampliamente estudiado en los últimos quince años. Aunque el género como categoría de análisis fue incorporado tempranamente, las experiencias de mujeres migrantes de primera generación en este movimiento han sido poco documentadas. A partir de una investigación etnográfica, el presente artículo analiza las experiencias generizadas, asociadas al trabajo político y de cuidados, atravesadas por la clase, de mujeres migrantes de primera generación, activistas en el movimiento migrante local de Austin, Texas. Esto, con la intención de comprender los significados que le otorgan a su quehacer político, y cómo estas formas de entender la política desdibujan demarcaciones tajantes entre lo público y lo privado, que cuestionan las formas androcéntricas de pensar los movimientos sociales y la participación política.
Citas
Besserer, Federico. (2014). Regímenes de sentimientos y la subversión del orden sentimental: Hacia una economía política de los afectos. Nueva Antropología, 27(81), 55-76.
Bobel, Chris. (2007). 'I'm not an activist, though I've done a lot of it': doing activism, being activist and the 'perfect standard' in a contemporary movement. Social movement studies, 6(2), 147-159. doi: https://doi.org/10.1080/14742830701497277
Castillo, Rocío A. (2019). Timidez, género y movilización social. Debate Feminista, 29(58). doi: https://doi.org/10.22201/cieg.2594066xe.2019.58.03
Castillo, Rocío A. (2021a). From "Safety Zone" to "Welcoming City": Austin, Texas as an unfinished urban sanctuary. En Laurent Faret y Hillary Sanders (Eds.), Migrant Protection and the City in the Americas (pp. 45-74). Palmgrave. https://doi.org/10.1007/978-3-030-74369-7_3
Castillo, Rocío A. (2021b). The (re)productive dimension of a gendered immigration system and immigrant women activism Texas. Gender, Place & Culture. doi: https://doi.org/10.1080/0966369X.2021.1976115
Cisneros, Jesus. (2018). Working with the complexity and refusing to simplify: Undocuqueer meaning making at the intersection of LGBTQ and immigrant rights discourses. Journal of homosexuality, 65(11), 1415-1434. https://doi.org/10.1080/00918369.2017.1380988
Coll, Kathleen. (2006). Necesidades y problemas: immigrant Latina vernaculars of belonging, coalition, and citizenship in San Francisco, California. En Suzanne Oboler (Ed.), Latinos and Citizenship: The Dilemma of Belonging (pp. 191-217). Springer.
Coll, Kathleen. (2010). Remaking citizenship: Latina immigrants and new American politics. Stanford University Press.
Cortese, Daniel K. (2015). I'm a "good" activist, you're a "bad" activist, and everything I do is activism: parsing the different types of "activist" identities in LBGTQ organizing. Interface, 7(1), 215-246.
Craddock, Emma. (2019). Doing 'enough' of the 'right' thing: the gendered dimension of the 'ideal activist' identity and its negative emotional consequences. Social Movement Studies, 18(2), 137-153. doi: https://doi.org/10.1080/14742837.2018.1555457
Cranford, Cynthia J. (2007a). Constructing union motherhood: Gender and social reproduction in the Los Angeles "Justice for Janitors" movement. Qualitative sociology, 30(4), 361-381.
Cranford, Cynthia J. (2007b). "It's Time to Leave Machismo Behind!" Challenging Gender Inequality in an Immigrant Union. Gender & Society, 21(3), 409-438.
Cranford, Cynthia J. (2012). Gendered projects of solidarity: Workplace organizing among immigrant women and men. Gender, Work & Organization, 19(2), 142-164. doi: https://doi.org/10.1111/j.1468-0432.2011.00585.x
Culley, Marci y Angelique, Holly L. (2003). Women's gendered experiences as long-term Three Mile Island activists. Gender & Society, 17(3), 445-461. doi: https://doi.org/10.1177/0891243203017003009
De la Torre, Pedro y Germano, Roy. (2014). Out of the shadows: DREAMer identity in the immigrant youth movement. Latino Studies, 12(3), 449-467.
Dodson, Lisa y Luttrell, Wendy. (2011). Families facing untenable choices. Contexts, 10(1), 38-42. doi: https://doi.org/10.1177/1536504211399049
Einwohner, Rachel L., Hollander, Jocelyn A y Olson, Toska. (2000). Engendering social movements: Cultural images and movement dynamics. Gender & Society, 14(5), 679-699.
Golash-Boza, Tanya, y Hondagneu-Sotelo, Pierrette. (2013). Latino immigrant men and the deportation crisis: A gendered racial removal program. Latino Studies, 11(3), 271-292. doi: https://doi.org/10.1057/lst.2013.14
Goldring, Luin. (2001). The gender and geography of citizenship in Mexico?US transnational spaces. Identities Global Studies in Culture and Power, 7(4), 501-537.
Hardy-Fanta, Carol. (1995). Latina women and political leadership: Implications for Latino community empowerment. New England Journal of Public Policy, 11(1), 221-235.
Heyman, Josiah. (2014). The border network for human rights: From community organizing to public policy action. City & Society, 26(1), 73-95. doi: https://doi.org/10.1111/ciso.12035
Hondagneu-Sotelo, Pierrette (2003). Gender and US immigration: Contemporary trends. Univ of California Press.
Horton, Lynn. (2015). Women's Movements in Latin America. En Paul D. Almeida y Allen Cordero (Eds.), Handbook of Social Movements across Latin America (pp.79-87). Springer. doi: https://doi.org/10.1007/978-94-017-9912-6_6
Isin, Engin F. (2009). Citizenship in flux: The figure of the activist citizen. Subjectivity, 29(1), 367-388. doi: https://doi.org/10.1057/sub.2009.25
Jiménez, Hortencia. (2010). Unidos Por La Justicia and Mujeres Fuertes: Grassroots groups shaping Mexican immigrant women's activism in San José, California. Latino Studies, 8(4), 442-462. doi: https://doi.org/10.1057/lst.2010.46
Jiménez, Hortencia. (2011). The start of a new era?: examining the Austin Immigrant Rights Coalition (AIRC) and experiences of Latinas [Tesis doctoral]. Univesity of Texas at Austin.
Jones-Correa, Michael. (1998). Different paths: Gender, immigration and political participation. International migration review, 32(2), 326-349. doi: https://doi.org/10.1177/019791839803200202
Kemmerer, Lisa. (2013). Evidence of Sexism and Male Privilege in the Animal Liberation/Rights Movement. Between the Species, 21(1), 243-286.
Lamont, Michèle. (2002). The dignity of men. Morality and boundaries of race, and immigration. Harvard University Press.
Lister, Ruth. (2007). Inclusive citizenship: Realizing the potential. Citizenship studies, 11(1), 49-61. doi: https://doi.org/10.1080/13621020601099856
McNevin, Anne. (2006). Political belonging in a neoliberal era: The struggle of the sans-papiers. Citizenship studies, 10(2), 135-151. https://doi.org/10.1080/13621020600633051
Mezzadra, Sandro. (2005). Derecho de fuga. Migraciones, ciudadanía y globalización. Traficantes de sueños.
Milkman, Ruth, y Terriquez, Veronica. (2012). "We Are the Ones Who Are Out in Front": Women's Leadership in the Immigrant Rights Movement. Feminist Studies, 38(3), 723-752. doi: https://doi.org/10.1353/fem.2012.0039
Morales, María Cristina y Saucedo, Leticia. (2015). Disposability and resistance in a male dominated industry: Latina immigrants organizing in residential construction. Human Organization, 74(2), 144-153. doi: https://doi.org/10.17730/0018-7259-74.2.144
Naples, Nancy A. (1992). Activist mothering: Cross-generational continuity in the community work of women from low-income urban neighborhoods. Gender & Society, 6(3), 441-463. doi: https://doi.org/10.1177/089124392006003006
Nicholls, Walter J. (2013). The DREAMers: How the undocumented youth movement transformed the immigrant rights debate. Stanford University Press.
Nyers, Peter. (2003). Abject cosmopolitanism: The politics of protection in the anti-deportation movement. Third world quarterly, 24(6), 1069-1093. doi: https://doi.org/10.1080/01436590310001630071
Pardo, Mary. (1990). Mexican American Women Grassroots Community Activists:"Mothers of East Los Angeles". Frontiers: A Journal of Women Studies, 1-7. doi: https://doi.org/10.2307/3346696
Pateman, Carol. (1996). Críticas feministas a la dicotomía público/privado. En Carme Castells (Comp.), Perspectivas feministas en teoría política (pp. 31-52). Barcelona: Paidós.
Sasson-Levy, Orna y Rapoport, Tamar. (2003). Body, gender, and knowledge in protest movements: The Israeli case. Gender & Society, 17(3), 379-403. doi: https://doi.org/10.1177/0891243203017003006
Terriquez, Veronica. (2015). Intersectional mobilization, social movement spillover, and queer youth leadership in the immigrant rights movement. Social Problems, 62(3), 343-362. doi: https://doi.org/10.1093/socpro/spv010
Varela Huerta, Amarela. (2020). Apuntes para un feminismo antirracista después de las caravanas de migrantes. En Verónica Gago, Marta Malo y Lucía Caballero (Eds.), La Internacional Feminista: luchas en los territorios y contra el neoliberalismo (pp.75-92). Tinta Limón Ediciones.
Velasco Ortiz, Laura. (2004). Experiencias organizativas y participación femenina de indígenas oaxaqueños en Baja California. En Jonathan Fox y Gaspar Rivera-Salgado (Eds.), Indígenas mexicanos migrantes en los Estados Unidos (pp. 111-136). Universidad de California, Santa Cruz, Miguel Ángel Porrúa.
Zemlinskaya, Yulia. (2010). Social movements through the gender lens. Sociology Compass, 4(8), 628-641. doi: https://doi.org/10.1111/j.1751-9020.2010.00301.x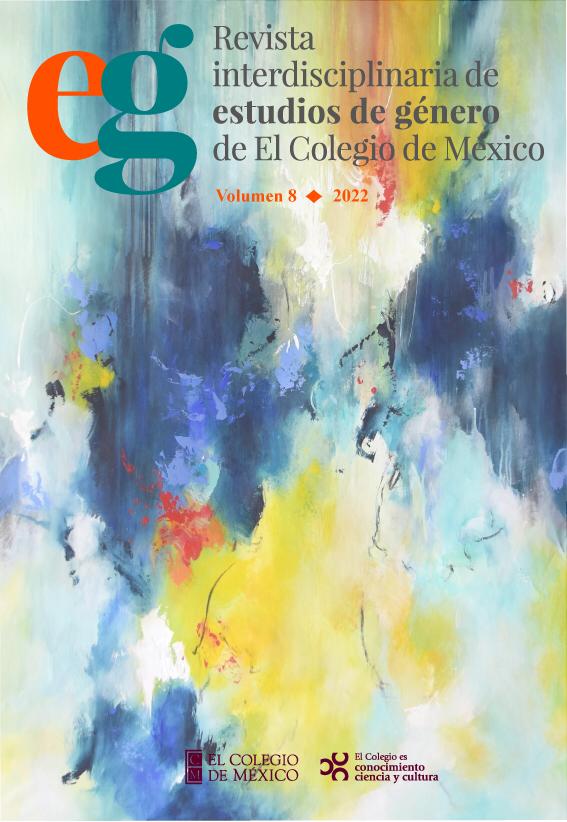 Metrics
Vistas/Descargas
Resumen

601

PDF

174

HTML

57

EPUB

443

Kindle

45

MP3

5
Cómo citar
Castillo, R. A. (2022). Activismo y género en un contexto migratorio. Experiencias generizadas y significados al quehacer político. Revista Interdisciplinaria De Estudios De Género De El Colegio De México, 8(1), 1–34. https://doi.org/10.24201/reg.v8i1.844